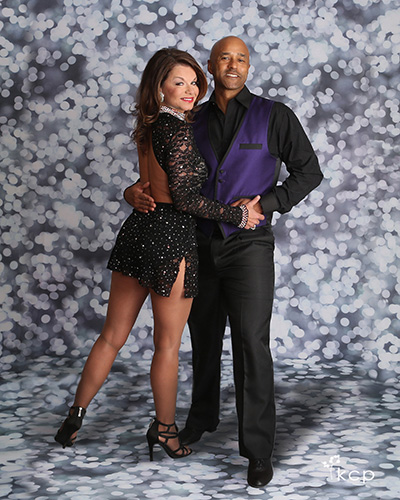 Support Team Bisseck/Lewis
Dr. Marc Bisseck and Melanie Lewis
About Marc
Marc Bisseck is originally from Winnipeg, Manitoba, Canada, but has lived in Statesboro since the late 1900s. As a young boy, Marc was extremely interested in the art of dance. However, his parents consistently told him "you have to study, there's no time for dance." So day after day, Marc studied in his igloo where he constantly had to take breaks because his eyelids would freeze from the cold, frigid wind and snow. One day while skating to school, he saw a poster looking for back up dancers. His dream had come true! Unfortunately, his parent's squashed his vision as they told their son, "you have no rhythm." Defeated, Marc took down his Debbie Allen poster and replaced it with the periodic table. Marc obtained his medical degree and specialized in plastic and reconstructive surgery. He is the owner and sole physician of Statesboro Plastic Surgery. He is honored to have been asked by Safe Haven to perform in Dancing with the Statesboro Stars.
About Melanie
Melanie Lewis has been dancing since the age of three, so it comes as no surprise that she is a professional teacher of all genres of dance. A Certified Zumba, Latin Pump and Rowing Instructor, Melanie now owns and manages N-Shape Fitness Center, a 24-hour fitness gym in Statesboro. She was voted Most Fabulist Personal Trainer by the Statesboro Magazine for 2016, and also teaches dance at the Statesboro School of Dance.  In her younger days, Melanie was a member of the award winning dance group, "The Golden Girls" receiving state and national acclaim and being known throughout the southeastern United States as National Dance and Twirling Champions. She was also a member of the first majorette line at Georgia Southern that performed the halftime routines for thousands. Melanie opened her own dance studio and over the last 20 years has had the pleasure of teaching and choreographing routines for hundreds of young women in all types of dance and pageant preparation. As a choreographer and producer, Melanie has been the mastermind behind hundreds of memorable, entertaining stage shows and has also worked as an Interim Dance Instructor in Los Angeles, California.  Her talents have spread throughout her family as well, with her three daughters all participating, competing, winning awards and performing on stage over the years and her son who is now living his dream as a television and feature film actor in LA.  Melanie will be the first to tell you that DANCE will always be a part of her life – saying "You don't stop dancing because you grow old, you grow old because you stop dancing." Melanie and her partner, Cy Young, were the Judges Choice winners of Dancing with the Statesboro Stars in 2012, and now, she is the producer of Dancing with the Statesboro Stars for Safe Haven. Melanie is married to Tommy Lewis and together they are the proud parents of Alexis Taylor, Alaina Peay, Bubba Lewis, and Allie Lewis. Currently, she enjoys being a Grandmother to her three grandchildren, Norah June Taylor, Oliver Thomas Taylor, and Theo Everett Peay who is her pride and joy these days!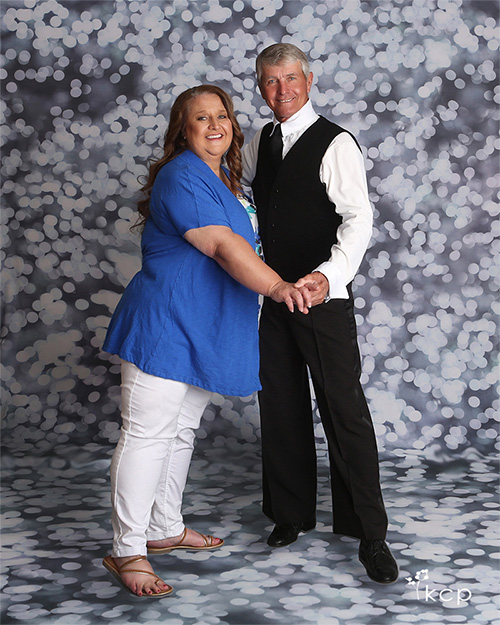 Support Team Harville/McNeely
Terry Harville and Jimmy McNeely
About Terry
Terry Harville was born and raised in Bulloch County, the daughter of Joseph and Mary Frances Harville. She graduated from Southeast Bulloch High School in 1984 and has worked for the Bulloch County Sheriff's Office for 22 years. She was also instrumental in starting the Sgt. Wilbur Berry Golf Tournament and has helped with several fundraisers for the Sheriff's office and other departments. "I am very excited to be able to perform in Dancing with the Statesboro Stars in support of Safe Haven."
About Jimmy
Jimmy McNeely has been married to his wife, Gail, for 38 years. They have two boys, JayMcNeely and the late Daniel McNeely, and two grandchildren, Mason who is nine and Owen who is 2. He is the owner and operator of McNeely Landscape, a landscaping, irrigation, and lawn maintenance business for 28 years. Jimmy is an avid bass fisherman. Jimmy and Gail have been taking ballroom dance lessons for 16 years at Essie's Dance Studio and have been teaching dance for 8 years. They have served on the Savannah USA Dance Board for four years and the Penguin Dance Board for two years. Both have performed in numerous showcases in Savannah at the Marriot on River Street, the Plantation Club at the Landings, Sun City in Hilton Head, and Sea Palms at St. Simons Island. Jimmy and Gail competed in the 2013 Savannah Dance Classic in the American Smooth and American Rhythm where they placed 1stin all dances in their division.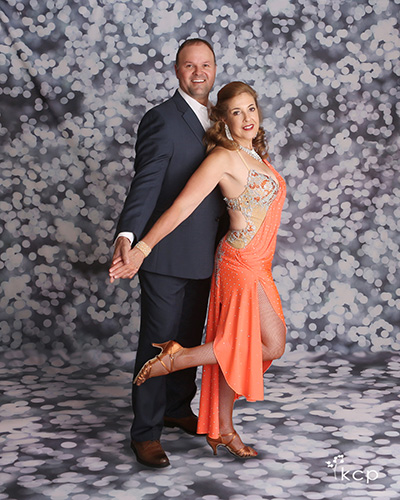 Support Team Jenkins/McNeely
Shane Jenkins and Gail McNeely
About Shane
Shane Jenkins is an Advanced Patrol Officer with the City of Statesboro Police Department and is the co-owner of Roadway Safety Solutions, LLC, a transportation safety compliance consulting firm. Shane has always had a passion for serving others. He views his service as a law enforcement officer as an opportunity to create a positive impact for the children and families of our community.  He can often be found on the backyard courts, shooting hoops with children, creating smiles and tons of laughter. Shane is a graduate of Valley Forge Military Academy.  While attending Georgia Southern University, Shane played football and was on the 1990 National Championship Team. As a former GSU football player, Shane is still a True Blue Eagle Fan and member of the Eagle Football Alumni Association. He went on to receive his Bachelor of Science Degree in Criminal Justice from Lees-McRae College in North Carolina.  Shane also enjoys training for marathons and triathlons, boating, beach and lake trips, and spending time with his family and many friends in Statesboro. He is honored to be a part of raising the awareness of the critical needs that exist for the women and the children that are served by Safe Haven. He is currently dusting off the dancing shoes and getting ready to put on a show!
About Gail
Gail McNeely has been married to her husband, Jimmy, for 38 years. They have two boys, JayMcNeely and the late Daniel McNeely, and two grandchildren, Mason who is nine and Owen who is two. She is employed by Valmont Industries, Inc. where she has been the Office Manager/Controller for28 Years. Gail and Jimmy have been taking ballroom dance lessons for 16 years at Essie's Dance Studio and have been teaching dance for 8 years. They have served on the Savannah USA Dance Board for four years and the Penguin Dance Board for two years.  Both have performed in numerous showcases in Savannah at the Marriot on River Street, the Plantation Club at the Landings, Sun City in Hilton Head, and Sea Palms at St. Simons Island.Jimmy and Gail competed in the 2013 Savannah Dance Classic in the American Smooth and American Rhythm where they placed 1st in all dances in their division.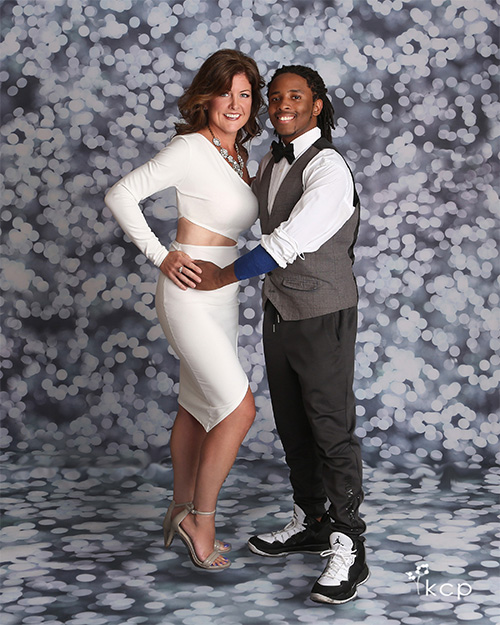 Support Team Jordan/Washington
Alison Jordan and Ron Washington
About Alison
Alison Jordon moved back to Statesboro in the mid-nineties, where she put her Furman University Business Administration degree to work as the owner and Broker of a thriving real estate and property management company, Perimeter Properties. She is launching a boutique management company in 2016 called Nest Realty.  Alison is the proud ͚pup͛ parent of two adorable dachshunds, Mooch and Maggie, and as a single woman, reminds her suitors there's only room for one mooch in the house. In addition to her professional achievements, perhaps her most notable accomplishment recently is losing 100 pounds in a year. "It took a tremendous amount of hard work and determination to be able to change my life and get healthy again, and, with this in mind, I am honored to be able to help the families of Safe Haven find their way to a better life as well. Everyone faces struggles in life, and the fortunate ones are able to find their inner strength and seek help when they need it."
About Ron
Rontavius Washington was born in Statesboro on November 26, 1992. Even at a young age, Ron's parents knew that he would grow up to be extraordinary! Throughout elementary school, he was very fond of computers, sports, chorus, and performing in school shows during the PTO meeting nights. In middle school, Ron was in a play called "Big Bad" where he starred as the Big Bad Wolf himself! When he started high school, he wasted no time in participating in plays, chorus, and even student government. Ron played a lead role in every theatrical production in his high school including, "Alice in Wonderland," "Narnia," "Scrooge," "Seussical," and more! Also serving as a leader and role model, Ron was SGA President throughout high school and graduated with National Honors. After graduation, he decided to attend Georgia Southern University because of the awesome Information Technology and Multimedia programs that they offered. Throughout college, Ron served as Hall Council President of the Residence Hall Association where he put on many programs for the residents. In his second semester at Georgia Southern, Ron joined a dance crew and very soon gained recognition by winning many competitions, proving that his dance crew was a force to be reckoned with. Moving on from the dance crew, Ron competed and won Dancing with the Stars, GSU Edition, two years in a row!  Currently, Ron is still attending Georgia Southern and is also a Group Fitness Instructor who teaches Zumba, Hip Hop Jam, and Awesome Abs classes. Ron is ecstatic to be performing again as a professional dancer in Safe Haven's Dancing with the Statesboro Stars.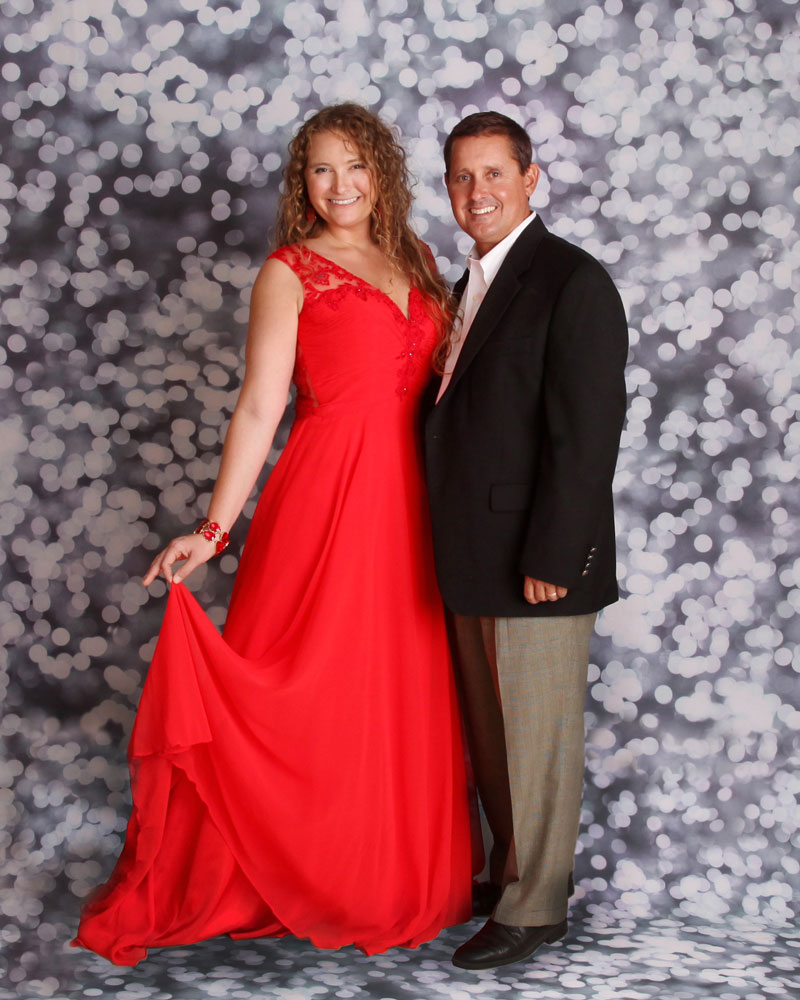 Support Team Joyner/Dennard
Ashley Joyner and Chandler Dennard
About Ashley
Ashley Joyner grew up in Statesboro sliding down the grass hills of Paulson Stadium. She is the daughter of Scott and Elizabeth Joyner, and big sister to Austin and Chelsi Joyner. Friends describe her as a fun-loving, Disney fanatic who spends her spare time hanging out in the backyard with her two French bulldogs, going on impromptu trips with her mom, and singing in her car. Her athletic prowess was realized as she led her team to become the reigning champions of the unparalleled Hopeulikit Flag Football Bowl. She attended Statesboro High School (Go Blue Devils!) and graduated with honors from Georgia Southern University. During her time at Georgia Southern she was elected SGA senator for the College of Education and joined the Kappa Kappa Gamma sorority. Ashley still serves Kappa through the advisory board of the local Zeta Upsilon chapter. She found her passion for teaching children through her many years of teaching Vacation Bible School at Friendship Baptist Church. Currently, Ashley is happily in her fifth year of teaching kindergarten at Mill Creek Elementary School; where she won the 2015-2016 Teacher of the Year. She plays an active role at her school by serving on the School Council.  Ashley has always had a special place in her heart for Safe Haven. She volunteered with the children at Safe Haven throughout her college career and planned the first annual panhellenic fundraiser that continues to raise money to support victims of domestic violence. Ashley is truly thrilled to be able to support this worthy cause by being a dancer in this year's Dancing with the Statesboro Stars.
About Chandler
Chandler Dennard is a 1990 graduate of Georgia Southern University where he received a degree in Communication Arts and graduated in 2003 with a Master of Education degree from Troy State University. He is currently the Assistant Head of School and Athletic Director at Bulloch Academy. Along with his administrative duties, he also serves as the schools Head Boys Basketball Coach.
During his 16 year career as a basketball coach, his teams have won 17 regular season or tournament conference titles, have made 5 Final Four appearances and won 2 State titles. His teams have compiled a .714 winning percentage, while averaging 20 wins per season. Honors for Coach Dennard include being named Conference Coach of the Year 9 times, State Coach of the year twice and was named Augusta Chronicle Coach of the Year 3 times.
While he enjoys his coaching experience and working with kids, Chandler has a passion for helping raise money for the Alzheimer's Association. He is co-chair of the Miriam Burnette Memorial "Striking Out" Alzheimer's softball tournament and the Rockin Out Alzheimer's Concert that have raised over $100,000 for the Alzheimer's Association. For his work with the Alzheimer's Association, Chandler was a 2014 Deen Day Smith Award winner. He also danced in last year's Dancing with the Statesboro Stars.
He and his wife Kem have been married for 27 years and have 2 girls: Kaylee (24), who graduated from the Georgia Southern School of Nursing and is currently a nurse at Memorial Hospital in Savannah, and Lauren (21), who is currently a Senior at Georgia Southern.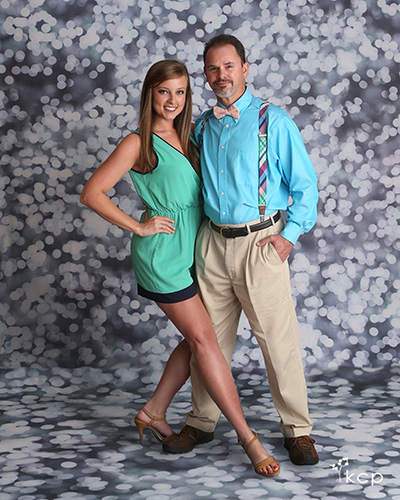 Scott Kemp and Katie Byers
About Scott
Scott Kemp is a Manufacturing Engineer with Nordson Corporation in Swainsboro. He is a graduate of Metter High School, and went on to obtain a degree from Swainsboro Technical College in 1985. He is currently furthering his education at Georgia Southern University studying Mechanical Engineering. He lives in the Excelsior community just outside of Metter, where he is an active member of Pulaski Baptist Church. He actively participates and gives of his time helping out the Sunshine House Child Advocacy organization and Relay for Life in Swainsboro. Scott is a down-to-earth kind of guy and loves spending time with family and friends. You may not know this about him, but he has a secret talent for baking chocolate pound cakes and kindly shares his wares with many every Christmas. His passions are hunting, fishing, and going fast – a bit of an adrenaline junkie to say the least! In fact, he broke his right femur in an accident while skydiving in June of 2011; it took about 3 months for the "eagle" to fly again, but it didn't stop him from going right back to those things he enjoys. If you ask him about Dancing with the Statesboro Stars, he might blush a little, but he's honored to be involved with such a worthy cause.
About Katie
Katie Byers is a Statesboro native and the daughter of Lee and Debbie Walker, and the sister to Matthew and Ashley Walker. She is 26 years old and recently married Jake Byers, an active duty Infantryman in the U.S. Army. Katie is a recent graduate of Georgia Southern University, where she received her degree in public relations, and was a member of the 2015-2016 Georgia Southern Dance Team. Katie is currently working as an assistant in the Office of Marketing and Communications for Georgia Southern. Katie started dancing at the age of four at Southern Dance Academy and continued through the age of 18. In 2009, she took a three-year break to travel with the organization 'Up with People'. She traveled as a performer for a year and then worked as a Promotion Representative for the last two years. After joining 'Up with People', she had the opportunity to learn many cultural dances and to perform different styles of dancing in countries such as Mexico, the Philippines, Italy, Belgium and Sweden. This is Katie's third year as a dance pro for Dancing with the Statesboro Stars. "I was honored to be asked to dance. It was the perfect combination of one of my passions and bringing people together for a great cause."
Support Team Perkins/Realiza
Dr. Cheryl Perkins and Bryan Realiza
About Cheryl
Cheryl Perkins was born in Colorado and moved to Georgia while in high school. She graduated from the University of Georgia and the Medical College of Georgia and then moved to Statesboro in 2002. Cheryl has been a pediatrician for 25 years. She also loves singing and playing her guitar, but has never danced. Cheryl and her husband, Steve, have 3 children and are members of Compassion Church in Statesboro. They enjoy gardening, kayaking, and spending time outdoors with their dogs. She is honored to be a part of this great fundraising event for Safe Haven.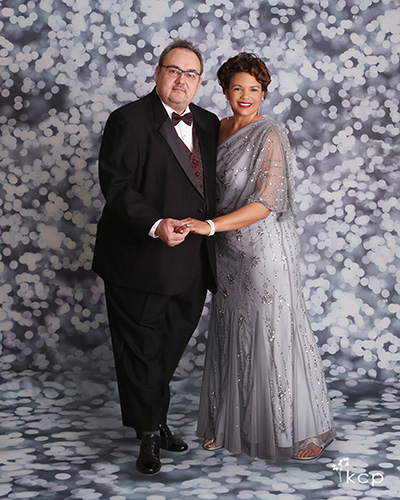 Support Team Phillips/Lank
Michelle Smith Lank and Tony Phillips
About Tony
Tony Phillips and his lovely wife of 25 years, Diane, are the proud parents of their darling daughter Madison, a senior at Georgia Southern University. Tony works full-time as Program Director for the Averitt Center for the Arts. He has been a ballroom dance teacher for over 30 years. He has taught for Ashe County 4-H, Appalachian State University, Caldwell Community College, Wilkes County Parks and Recreation, The Dance Company, Statesboro-Bulloch County Parks and Recreation, Georgia Southern University Division of Continuing Education, and the Averitt Center for the Arts. In addition, he is a multi-award winning performer. He has won many dance competitions and has been the opening act for Conway Twitty, Ricky Skaggs, The Kendalls, and has performed on stage at the Grand Ole Opry in Nashville, Tennessee. Tony is an Emma Award Winning theater director, as well. He has produced and directed many shows for the Averitt Center for the Arts, such as Grease, The Sound of Music, High School Musical 1 & 2, Bye Bye Birdie, Oklahoma, Seven Brides for Seven Brothers, and the beloved holiday favorite White Christmas.
About Michelle
Michelle Smith Lank is originally from Mannheim, Germany.  Her mother, Maria Smith, is from Cornwall, England and her father, Larry Smith, is from Statesboro, Georgia.  After growing up in a military household along with her sister, Katrina Parrish, and traveling the world; Michelle's father retired and the family settled in Statesboro her junior year of high school.  Michelle has lived in Statesboro ever since.  Michelle has been married to Steven Lank for 14 years and has two children Jasmyn Smith who is 23 and Jamel Smith who is 21.  She is the Owner and Director of Kid's World Learning Center in Statesboro. In 2014 and 2015, Michelle was the President of the Georgia Child Care Association representing over 900 licensed childcare programs in the state of Georgia.  Michelle has won many childcare industry awards and served on many of the state childcare task forces and committees to increase quality care for all of Georgia's earliest learners.  The program that Michelle runs is State Quality Rated Accredited and NAEYC Nationally Accredited.  The passion Michelle has for children flows over to all children in the community.  Safe Haven has a special place in Michelle's heart. Her love and advocacy for children and her own work's mission and vision aligns with the principles of Safe Haven. She feels it is a privilege to be part of the Dancing with the Statesboro Stars team, helping to raise  money and awareness for Safe Haven. Michelle would like to personally thank her family members and her DWTSS teammate, Tony, for putting in the time and effort to make her shine during this wonderful process!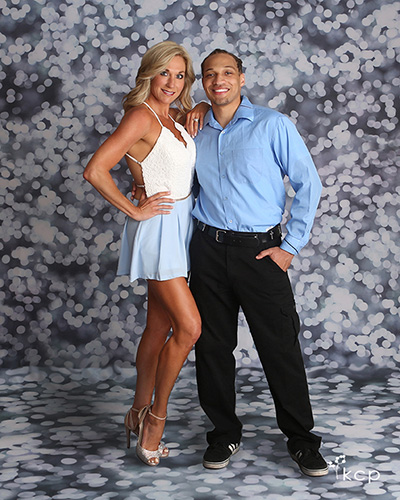 Support Team Tidick/Thompson
Lori Tidick and Devon Thompson
About Lori
Lori Tidick and her husband, Mike, have lived in Statesboro for almost seventeen years. They moved here in 1999 for Mike's position as assistant baseball coach at Georgia Southern University. They both feel blessed that their family was able to stay in the town they call home when Mike became a Scout for the Toronto Blue Jays. They have two children, Ty who is 17 and Lorin who is 13. Lori was born and raised in the small town of Cherryville, NorthCarolina. She graduated from Cherryville High School and moved to Charlotte, N.C. where she received a degree in Fashion Merchandising from King's College. She then went on to Western Carolina University to earn a degree in Early Childhood Education. While living in Statesboro, she has had the good fortune of sharing her love of teaching at the First United Methodist Church Preschool, Mill Creek Elementary and Sallie Zetterower Elementary. Before she decided to change careers, she was honored at Sallie Z by being named Teacher of the Year. Lori began her new career last year at Split Ends Hair and Nail Salon where she is the Nail Technician. Her favorite things in life are staying busy with Ty and Lorin's many church, school and sports activities. Personally, Lori enjoys training with her boxing coach, running, baking, and time with friends. "The most important thing to me is sharing life with my husband of 20 years and taking care of my family."
About Devon
Devon  Thompson was born in Fort Stewart, Georgia, but grew up in Santa Monica, California which still holds a place  in  his  heart. Devon  has  a  Bachelor's degree  in Applied  Science and currently resides in Statesboro. He began dancing at an early age, but it didn't really become his passion  until  the  age  of  12. He  has  been  a  part  of  numerous dance  groups, but his  most memorable  is  the  Georgia  Southern Euphoria  Dance  Crew which was the opening act  for the renowned dance crew Jabbawockeez. Devon teaches hip-hop classes to kids in the Statesboro and Savannah area. He is engaged to his high school sweetheart and they have a 6 year old son, Christopher, who  is  already  following  in  daddy's  dancing footsteps. Devon aspires  to  own  a studio of his own one day,  and live out his lifelong dream to teach and dance every day. He is excited to be competing in his third Dancing with the Statesboro Stars event.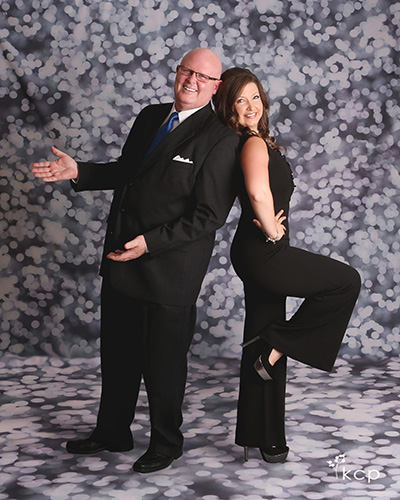 Support Team Walters/Collins
Dr. John Waters and Rebecca Collins
About John
John Waters has served as lead pastor of First Baptist Church in Statesboro for the past 11 years. He and his wife of thirty-two years, Cynthia, met while students at Brewton-Parker College. They have two adult daughters, Trisha who is married to Marquis Thomas, and Bethany who is married to Shane Gilliam. John and Cynthia also have two grandchildren, Ava Grace and Lottie. Even though John takes the stage in church each week, he is no stranger to the theatrical setting, having served in various roles and productions with the Perry Players in middle Georgia. As lead pastor of First Baptist Church Statesboro, John provides overall leadership to the congregation, helping people to start and strengthen their relationship with Jesus Christ. John has served in many leadership roles within his state and national Baptist denomination, but he is best known locally for his extremely practical teaching style as he connects the Bible to everyday life. A collector of fountain pens, John is an avid reader and enjoys visiting the great cathedrals of the world. Both he and his congregation have been long time supporters of Safe Haven, and he hopes his participation in this year's event encourages our community to generously support the great work done by Safe Haven each day.
About Rebecca
Rebecca Collins graduated from Mercer University in 2007 with a Bachelor of Science degree in Biology and received her Master of Science degree in Kinesiology with a concentration in Exercise Science from Georgia Southern University in 2009. She is currently a Lecturer of Exercise Science and Health for the School of Health and Kinesiology at Georgia Southern. She also teaches various dance and fitness courses for the university, ranging from tap, ballet, and modern to Zumba. Rebecca is married to Carter Collins, the Georgia Southern Men's Golf Coach, and they have two children, Sydney who is 3 and Jase who is 11months. As a fitness and dance instructor for over 10 years, Rebecca voluntarily provides classes for various elementary and middle schools in the area as well as for camp Gateway. Rebecca has been a Group Fitness Instructor for N Shape Fitness Center for 9 years and loves to work with all populations including children, seniors, and perinatal women. Rebecca and her family attend First Baptist Church of Statesboro.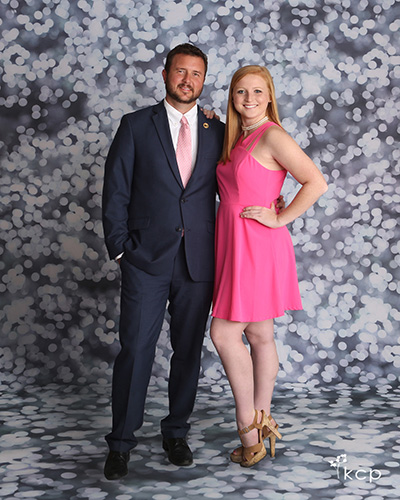 Support Team Woodrum/Thompson
Alan Woodrum and Savannah Thompson
About Alan
Alan Woodrum is a Statesboro native with Georgia Southern blue and white running through his veins. Alan received both his undergraduate and graduate degrees from Georgia Southern University and this fall will mark his 10th year in academic administration at Georgia Southern.  Alan and his beautiful bride, Wendy, are blessed with 5 year-old twins, Madison and Jackson.  Being a father is Alan's motivation to step out of his comfort zone and participate in Dancing with the Statesboro Stars. We have individuals in our community that find themselves in very difficult situations.  Safe Haven provides so much love and support to many of those individuals.
About Savannah
Savannah Thompson has a passion for dance that started at a very young age. With over 19 years of experience, she has danced competitively and performed at Walt Disney World, Universal Studios, Atlanta Hawks Basketball Games, and on several Royal Caribbean cruises. In high school, Savannah was a majorette for the Statesboro High School Marching Band and also participated in several local musicals under the direction of fellow dance pro, Tony Phillips. In recent years, she has taught dance and baton at the Southern Dance Academy with studios in Statesboro and Brooklet. It was during this time, where her love for teaching really took root. During her sophomore year of college, Savannah joined the Georgia Southern Dance Team where she danced for three years. She served as both co-captain and captain during her time as an undergraduate student, and is now honored to be coaching the team. Savannah graduated magna cum laude from Georgia Southern this spring with a Bachelor's degree in Mathematics and is now pursuing a Master's degree in Education. Savannah loves ice cream and her favorite place to be is on the beach with a good book in her hand. She is thankful for a supportive family and friends and is thrilled to be a part of such an awesome event.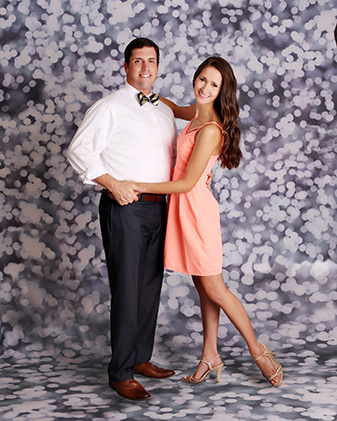 Support Team Young/Stroup
Jonathan Young and Brandilyn Stroup
About Jonathan
Jonathan Young is the Assistant Vice President/Mortgage Officer at Citizens Bank of the South in Statesboro and is in his 10th year with the bank. He learned about the rewards of hard work from his parents, Emory and Sherry, along with his three brothers, Bobby, Brian, and Chris, while growing up on a dairy farm in rural Tennille, Georgia. Jon first moved to Statesboro in 2002 as a student at Georgia Southern University and went on to graduate in 2006 with a BBA in Management.  "I never thought I'd land in banking, but it has been a way for me to utilize my knowledge and resources to help people achieve short term and long term financial and personal goals."  He likes the family atmosphere at Citizens Bank and feels it's the community bank that Statesboro needs and wants to do business with. Jon has been taking ballroom dance lessons from DWTSS Pro, Tony Phillips, with his fiancée, Christina Larson, since November 2015. Jon says, "Dance lessons have been great fun and a step up from dancing in the kitchen!"  He also enjoys many sports including golf, fishing, Georgia Southern Football, and soccer. Jon is a member of Chamber Agribusiness Committee, Statesboro Jaycees, and Leadership Bulloch Alumni (2016), and has been involved with helping several non-profits raise money and awareness over his career and is excited to represent the community in such a unique way, while making new friends and raising money for Safe Haven.
About Brandilyn
Brandilyn Stroup has over 20 years of dance training in ballet, pointe, jazz, lyrical, contemporary, and modern. As a competitive dancer, she has received numerous awards as a soloist and has performed roles in "The Nutcracker" in Middle Georgia, "Sleeping Beauty," "Peter and the Wolf," and "Alice in Wonderland." Brandilyn was also a member of the Georgia Southern Dance Team. She has been teaching ballet, pointe, and contemporary for five years and was the director of a competition team and company in North Augusta, South Carolina. Her choreography has won overall awards at both the regional and national level as well as a "Best Choreography" award in 2016. She is an instructor at Statesboro School of Dance and Vidalia Ballet, as well as a judge and guest instructor with Fierce National Dance Competition. Brandilyn holds a Bachelor of Science degree in Early Childhood Education and a Master of Education degree in Curriculum and Instruction from Georgia Southern University. Presently, she teaches at Mill Creek Elementary.